ANZ Tennis Hot Shots Green Court Program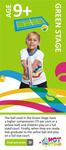 Ages : 9+ yearsThe Green Court Program is aimed at students graduating from the Orange Court Program and advanced beginners looking to further develop their tactical and technical knowledge of the game of tennis. The Green Court Program challenges players to explore an all-court game style and experience the tactics and technical execusion required for success in the full size tennis court. Challenging, tactical scenerios and competition formats used within the lesson format will encourage athletes to gain the edge in their learning development. Graduates of this program will have developed several tennis weapons, sound technique and tactical awareness.
This program is conducted on a full size tennis court using green (75%) low compression tennis balls.
Dates :
Term 1: Week starting 4th February 2020 -28th March 2020
Term 2: Week starting April 12th 2020 – June 6th 2020
Times :
Friday 6:00pm – 7:30pm
Saturday 8:30am – 9:45am
Cost : $220.00 per participant (Friday 1.5hrs) $205.00 per participant (Saturday 1.25hrs)