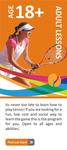 Ages : 18+ years
What a great start to the day! This program is designed to kickstart the body, focusing on low impact tennis drills and activities combined with muscle toning stretches to get your body into gear for your busy day ahead.
Click below to register :
Dates :
Term 1: Week Commencing Monday 31st January,2022.
Wednesday 7:30am – 8:30am
Cost : $215.00